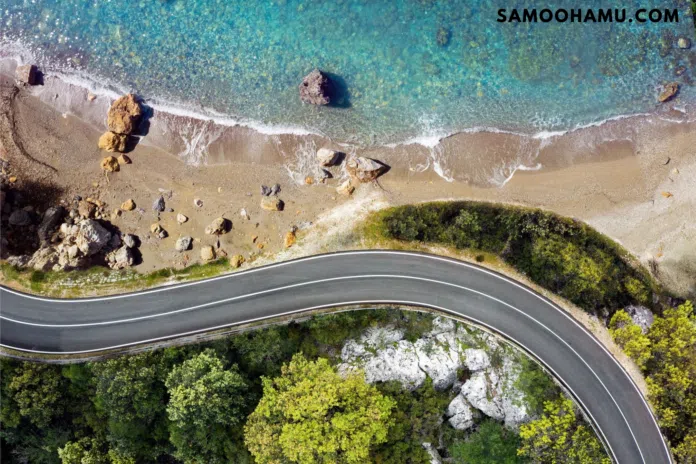 Rev up your engines, fellow wanderers! It's time to hit the open road and embark on an unforgettable adventure. If you're a nature lover seeking breathtaking scenery and awe-inspiring landscapes, we've got just the ticket for you. From winding coastal drives to majestic mountain passes, these seven must-visit road trip destinations will leave you spellbound at every turn.
So grab your trusty map (or GPS) and buckle up as we take you on a journey through some of America's most captivating natural wonders. Get ready to explore hidden gems, encounter wildlife in their natural habitats, and experience unparalleled beauty that will make your heart skip a beat.
Are you ready? Let's rev those engines and dive into our first incredible destination along this epic road trip – Hana Highway in Maui!
1. Hana Highway, Maui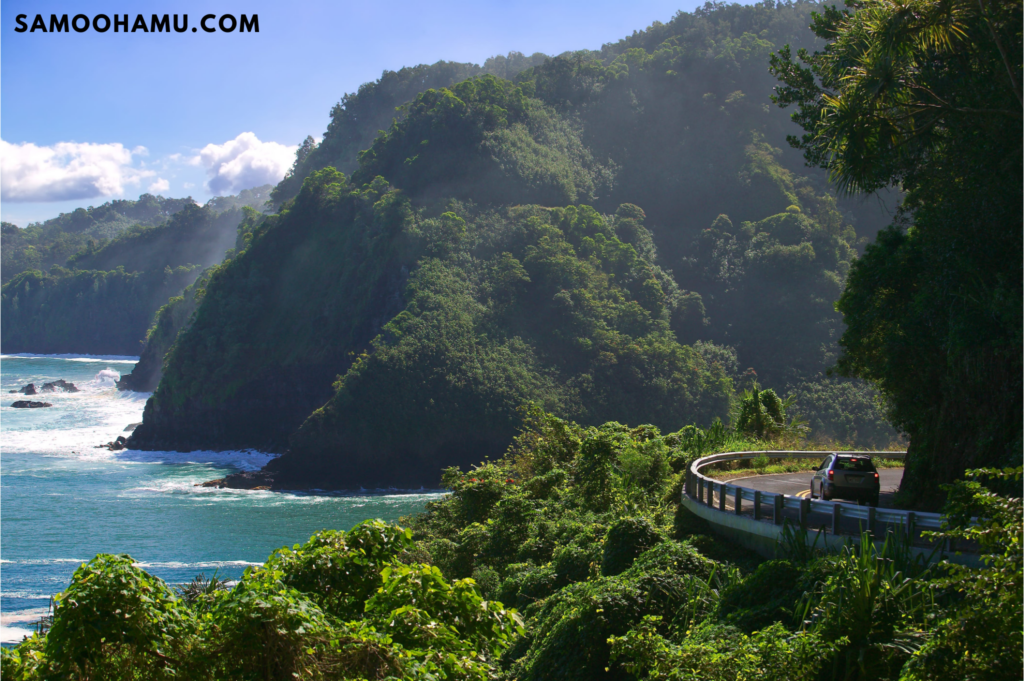 Hana Highway, Maui – where lush rainforests meet dramatic coastal cliffs, creating a paradise that feels like it's straight out of a dream. This iconic road trip destination is a must-see for nature lovers seeking an unforgettable adventure.
As you wind along the 64-mile stretch of Hana Highway, get ready to be mesmerized by its breathtaking beauty. Each twist and turn reveals new wonders – from cascading waterfalls that plunge into crystal-clear pools below to vibrant floral landscapes that paint the scenery in hues of red, pink, and purple.
Nature enthusiasts will have plenty to explore along the way. Take a refreshing dip in one of the many hidden swimming holes or embark on a hike through bamboo forests that seem to touch the sky. Keep your eyes peeled for native wildlife like colorful birds and friendly sea turtles as they go about their daily routines.
Don't forget to make stops at picturesque beaches where turquoise waters beckon you for a relaxing swim or some sun-soaked lounging. And when hunger strikes, indulge in local delicacies at roadside stands offering fresh tropical fruits and mouthwatering seafood dishes.
Whether you choose to take this journey by car or opt for a guided tour, prepare yourself for an experience unlike any other. The Hana Highway will enchant you with its natural beauty and leave you yearning for more adventures amidst Maui's stunning landscapes.
So pack your bags (and don't forget your camera), because Hana Highway awaits! Get ready to immerse yourself in nature's wonderland as we continue our road trip extravaganza with our next stop: Blue Ridge Parkway in the Carolinas and Virginia!
2. Blue Ridge Parkway, the Carolinas and Virginia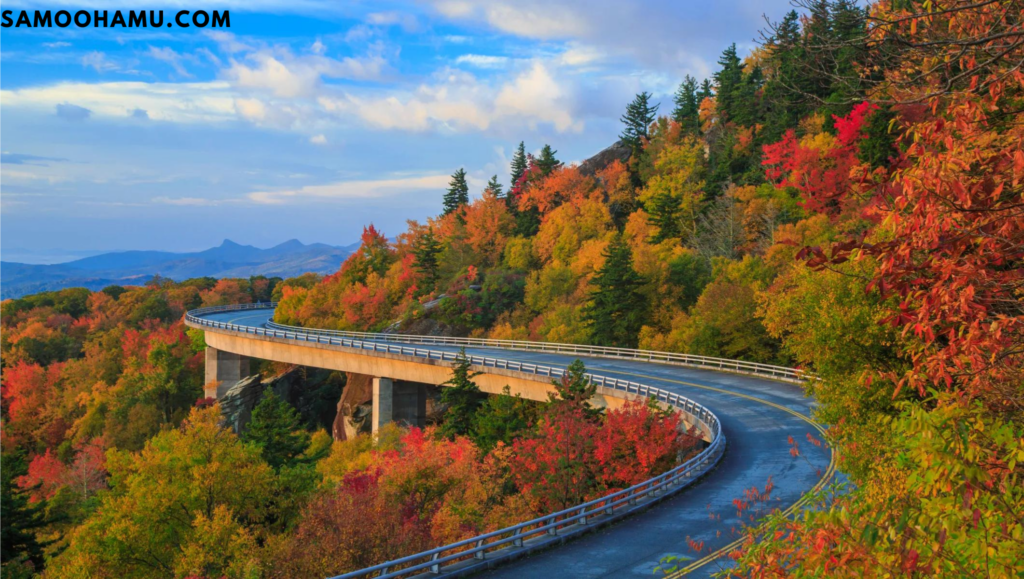 Get ready to embark on a breathtaking journey along the Blue Ridge Parkway, winding its way through the stunning landscapes of North Carolina, South Carolina, and Virginia. This iconic road trip destination is an absolute must for nature lovers seeking awe-inspiring vistas.
As you traverse this scenic route, be prepared to encounter majestic mountains, verdant forests, cascading waterfalls, and charming small towns along the way. The Blue Ridge Parkway offers countless opportunities for outdoor activities such as hiking, camping, biking, and wildlife spotting.
One of the highlights of this road trip is witnessing the mesmerizing autumn foliage that blankets the region in vibrant hues. As summer turns into fall, nature puts on a spectacular show with leaves transforming into shades of golds and reds.
Make sure to stop at popular landmarks like Grandfather Mountain or Linville Gorge for panoramic views that will leave you speechless. Don't forget your camera because you'll want to capture every moment of this picturesque journey.
With over 400 miles of scenic beauty awaiting your exploration on the Blue Ridge Parkway alone – not to mention all the side trips you can take – there's no shortage of natural wonders to discover in these three states.
So pack your bags (and maybe a picnic!) and hit the open road on this unforgettable adventure through some of America's most stunning landscapes. The Blue Ridge Parkway beckons with its undeniable charm and endless natural splendor that will captivate even seasoned travelers.
3. Lake Shore Drive, Chicago
Lake Shore Drive, Chicago is a road trip destination that should be on every nature lover's bucket list. This iconic stretch of road hugs the beautiful Lake Michigan shoreline, offering breathtaking views of both the city skyline and the shimmering waters.
As you cruise along Lake Shore Drive, you'll pass by some of Chicago's most famous landmarks, such as Navy Pier and Grant Park. The drive itself is lined with lush greenery and parks, providing plenty of opportunities for picnics or leisurely strolls.
One highlight along this route is the Museum Campus, home to three world-class museums: the Field Museum, Shedd Aquarium, and Adler Planetarium. Nature lovers will be in awe as they explore these institutions dedicated to natural history and marine life.
For those seeking even more outdoor adventure, simply veer off Lake Shore Drive onto one of the many nearby bike paths or walking trails. You can soak up nature's beauty while enjoying a scenic workout.
Whether you're driving or biking down Lake Shore Drive at sunrise or sunset, you're guaranteed to witness stunning vistas that will leave you breathless. So next time you find yourself in Chicago, don't miss out on experiencing the natural beauty along this incredible road trip destination.
4. 17-Mile Drive, California
Tucked along the rugged California coastline lies a picturesque road trip destination that is sure to captivate nature lovers: 17-Mile Drive. This iconic stretch of road, located on the Monterey Peninsula, offers breathtaking views and an abundance of natural beauty.
As you embark on this scenic drive, be prepared to witness some of Mother Nature's finest creations. The route winds its way through stunning coastal cliffs, showcasing panoramic vistas of the Pacific Ocean. Keep your camera handy because you'll want to capture every awe-inspiring moment.
One highlight along the drive is the famous Lone Cypress tree, perched dramatically on a rocky outcrop overlooking the ocean. This enduring symbol has withstood centuries of wind and waves, making it a must-see for any visitor.
Nature enthusiasts will also appreciate the wildlife that calls this area home. Keep an eye out for seals basking in the sun or sea otters frolicking in the waves. Birdwatchers will delight in spotting various species soaring above or nesting among the cypress trees.
For those seeking tranquility amidst nature's wonders, make a stop at Spanish Bay Beach or Asilomar State Beach. These pristine stretches of sand offer peaceful retreats where you can relax and soak up California's coastal charm.
As you reach Pebble Beach Golf Links, take a moment to admire not only one of America's most prestigious golf courses but also its stunning surroundings. The meticulously manicured fairways are juxtaposed against dramatic cliffs and crashing waves—an unforgettable sight even for non-golfers.
Whether you're exploring by car or bicycle (yes, bicycles are allowed!), 17-Mile Drive promises an unforgettable journey through some of California's most enchanting landscapes. So hit play on your favorite road trip playlist and get ready to experience nature at its finest along this must-visit road travel destination!
5. U.S. 1, Florida Keys
U.S. 1, also known as the Overseas Highway, is a mesmerizing road trip destination that takes you through the stunning Florida Keys. With its turquoise waters and breathtaking views, this highway offers an unforgettable experience for nature lovers.
As you drive along U.S. 1, prepare to be captivated by the beauty of the surrounding scenery. The vibrant hues of blue from the ocean contrast perfectly with the lush greenery that lines the road. It's like driving through a postcard!
One of the highlights of this road trip is crossing over numerous bridges that connect each key along the way. The most famous one is Seven Mile Bridge, which stretches across azure waters and provides panoramic vistas that will leave you in awe.
Not only does U.S. 1 offer incredible natural beauty, but it also leads to some charming towns and villages along its route. Make sure to stop at Key Largo or Islamorada for delicious seafood and delightful beachside vibes.
For wildlife enthusiasts, there are plenty of opportunities to spot dolphins, manatees, and even sea turtles during your journey down U.S. 1.
Whether you're a seasoned road tripper or just looking for a memorable adventure, U.S. 1 in Florida Keys should definitely be on your bucket list! So grab your sunglasses and hit the open road for an unforgettable nature-filled journey down this iconic highway.
6. Route 12, Utah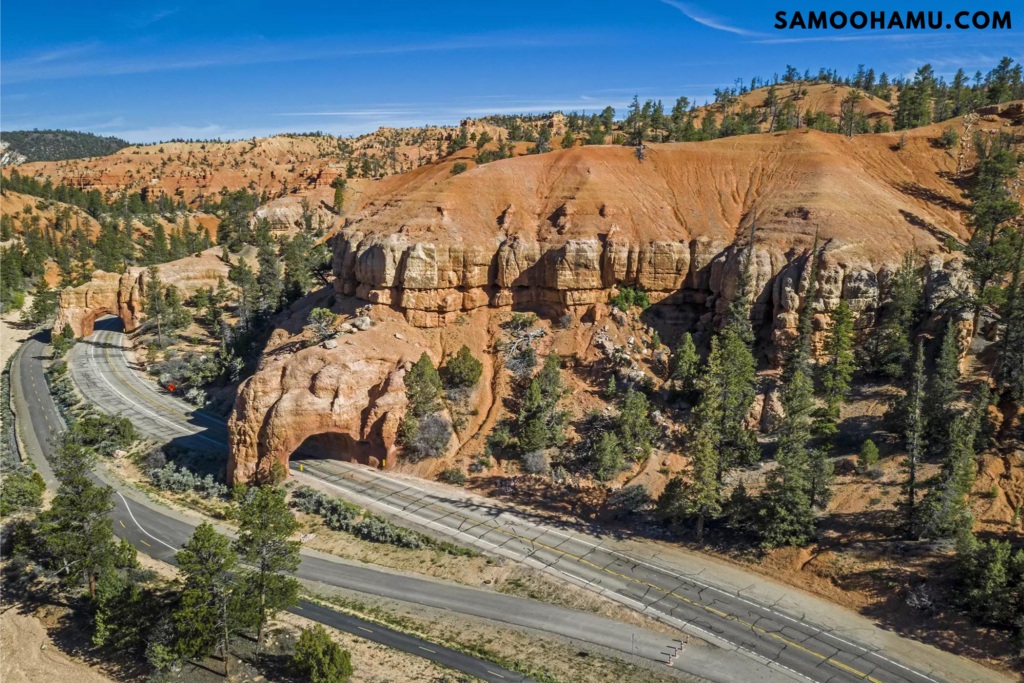 Route 12 in Utah is truly a road trip destination that will take your breath away. This scenic highway winds its way through the heart of some of the most stunning natural landscapes in the United States. As you drive along Route 12, you'll be treated to jaw-dropping views of red rock canyons, towering cliffs, and expansive forests.
One highlight of this journey is Bryce Canyon National Park. Here, you can explore the famous hoodoo formations and hike among ancient bristlecone pines. The colors and shapes found within the park are unlike anything you've ever seen before.
Another must-visit stop on Route 12 is Grand Staircase-Escalante National Monument. This vast wilderness area offers endless opportunities for outdoor adventures such as hiking, camping, and even dinosaur fossil hunting.
As you continue along Route 12, don't miss Capitol Reef National Park with its unique geologic formations and orchards filled with delicious fruit ripe for picking.
The town of Torrey also lies along this route and serves as a gateway to Capitol Reef. Take some time to explore its charming streets lined with galleries and shops showcasing local arts and crafts.
Further down the road, you'll encounter picturesque towns like Boulder where visitors can enjoy farm-to-table dining experiences or visit Anasazi State Park Museum to learn about Native American history in the region.
Whether it's exploring iconic national parks or uncovering hidden gems along the way, Route 12 promises an unforgettable road trip experience for nature lovers seeking adventure amidst Utah's awe-inspiring landscapes
7. Bluebonnet Trail, Texas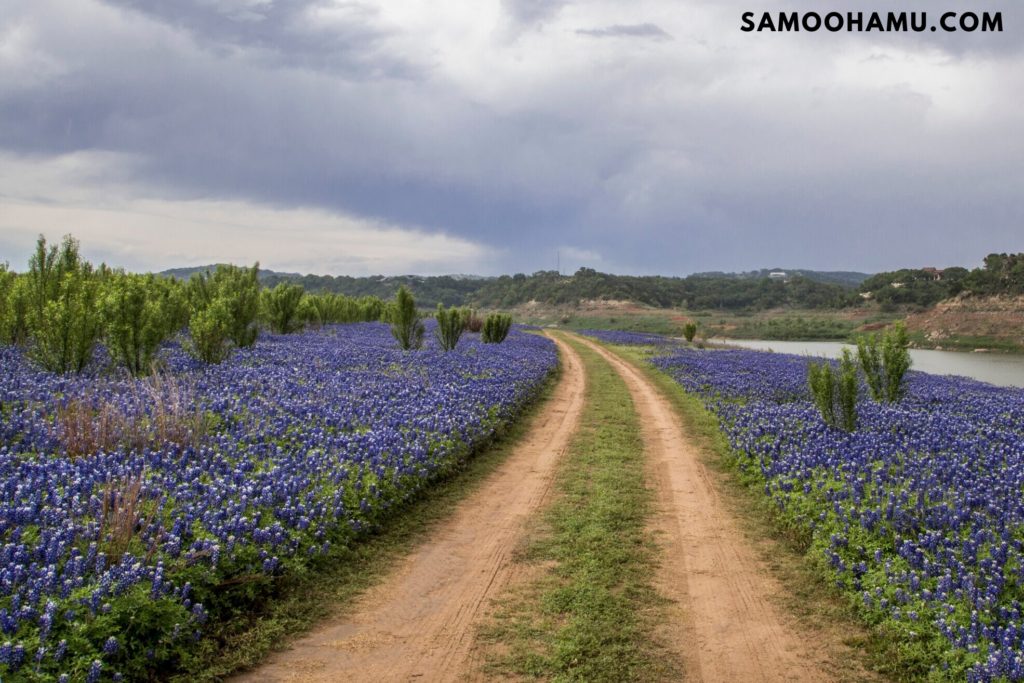 The Bluebonnet Trail in Texas is the perfect ending to our list of must-see road trip destinations for nature lovers. This scenic drive takes you through fields of vibrant bluebonnets, the state flower of Texas, and offers breathtaking views of rolling hills and picturesque countryside.
As you make your way along this route, be sure to stop and take in the beauty around you. Snap some photos amid a sea of blue wildflowers and embrace the tranquility that comes with being surrounded by nature's wonders.
Whether it's witnessing a stunning sunset over Maui's Hana Highway or cruising along Lake Shore Drive with Chicago's sparkling skyline as your backdrop, each destination on this list will leave you awe-inspired and craving more adventures on the open road.
So pack up your car, grab your camera, and hit these unforgettable highways. Let the wind guide your journey as you embark on an epic road trip filled with natural beauty at every turn. These must-visited road travel destinations are waiting for you to explore them – so what are you waiting for? The open road beckons!