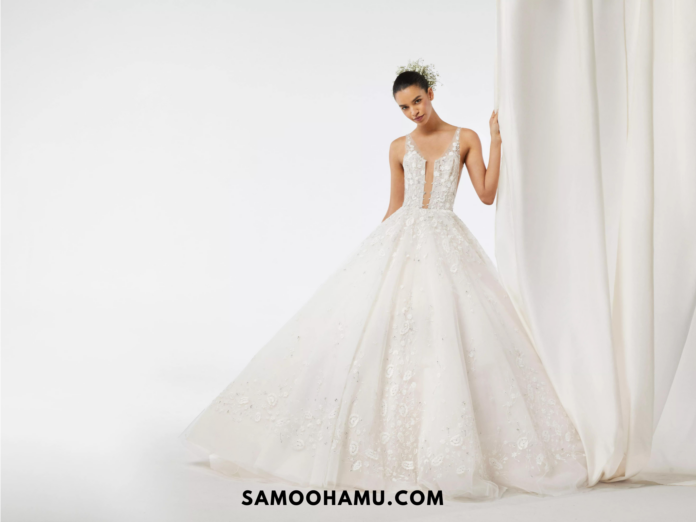 Step right up, ladies and gentlemen, as we embark on a journey through the opulent world of bridal fashion! Prepare to be dazzled by the sheer extravagance and jaw-dropping price tags of the most unforgettable wedding gowns in history. From shimmering diamonds to intricate lacework fit for a queen, these dresses redefine luxury and leave us all dreaming of our own fairytale weddings. So grab your binoculars because we're about to take a front-row seat on this extravagant walk down the aisle! Let's unveil the 7 most unforgettable and expensive wedding gowns of all time, guaranteed to make your heart skip a beat (and maybe even cause some sticker shock!).
1. Amal Alamuddin:$380,000
Amal Alamuddin, the beautiful and talented human rights lawyer, captured hearts around the world when she wed Hollywood heartthrob George Clooney in 2014. And as expected, her wedding dress was nothing short of breathtaking.
Designed by Oscar de la Renta, this stunning gown took over 500 hours to create and featured intricate lace detailing that cascaded down the entire length of the dress. The off-the-shoulder design added a touch of elegance, while the full skirt gave it a regal feel.
What made Amal's dress truly unique was the addition of hand-embroidered pearls and crystals that adorned every inch. These delicate embellishments shimmered under the soft glow of lights, adding an extra layer of luxury to an already extravagant gown.
The price tag for such magnificence? A staggering $380,000! While some may argue that this is an exorbitant amount to spend on a single garment, there's no denying that Amal looked like a true princess on her special day.
But beyond its monetary value, Amal's wedding dress symbolized love, grace, and sophistication. It represented her impeccable taste and individual style—a true reflection of who she is as a person.
Amidst all those diamond-studded dresses worth millions of dollars lies Amal Alamuddin's gown—a timeless masterpiece that will forever be etched in our minds as one of the most unforgettable wedding dresses ever created.
2. Kate Middleton:$388,000
In the realm of fairytale weddings, Kate Middleton's nuptials to Prince William in 2011 took center stage. The world was captivated as she stepped out in a jaw-dropping wedding dress that left us all breathless. Designed by Sarah Burton for Alexander McQueen, this exquisite gown came with a hefty price tag of $388,000.
The dress featured delicate lace sleeves and a fitted bodice that accentuated Kate's slender figure. The intricate hand-embroidered lace appliques were carefully placed on layers of silk tulle and satin, creating an ethereal effect fit for a princess.
What made this dress truly remarkable was its timeless elegance. It paid homage to classic bridal styles while incorporating modern elements seamlessly. The train alone measured almost nine feet long, adding an extra touch of grandeur to the already lavish ensemble.
Kate Middleton's wedding gown instantly became iconic, inspiring brides around the world to emulate her regal style. Its influence is still seen in countless bridal collections today, proving that true beauty never goes out of fashion.
As we reflect on the most unforgettable and expensive wedding gowns of all time, it is undeniable that Kate Middleton's dress holds a special place in our hearts. Its sheer magnificence reminds us that dreams can come true – even if they do come with a royal price tag!
3. Kim Kardashian:$500,000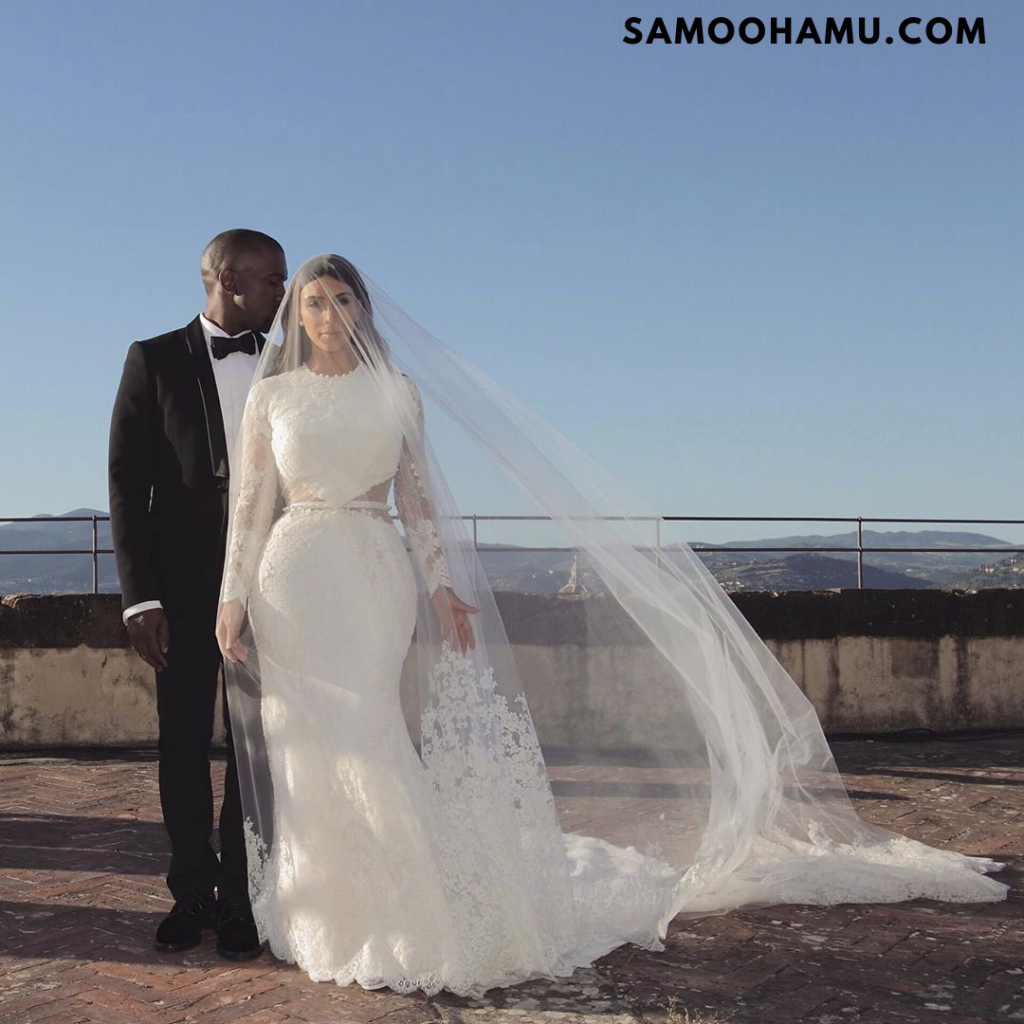 When it comes to extravagant weddings, Kim Kardashian is no stranger to making headlines. Known for her lavish lifestyle, it's no surprise that her wedding dress was nothing short of show-stopping. Designed by Riccardo Tisci for Givenchy, the gown reportedly cost a staggering $500,000.
Kim's dress featured intricate lace detailing and luxurious fabric that hugged her famous curves in all the right places. The long sleeves and high neck added an elegant touch to the overall design. But what truly set this dress apart was its dramatic cathedral-length train which flowed behind her as she walked down the aisle.
With such a hefty price tag, one might wonder what makes this dress worth half a million dollars. Well, aside from being custom-made and hand-sewn with utmost precision, it also incorporated rare fabrics and delicate embellishments sourced from around the world.
But let's not forget about those jaw-dropping accessories Kim wore alongside her gown – a stunning diamond headpiece and matching earrings valued at over $2 million! It's safe to say that when Kim said "I do," she did so in true Hollywood style.
Love it or hate it, there's no denying that Kim Kardashian knows how to make an entrance. And with a wedding gown like hers gracing the aisle of extravagance, she certainly made sure all eyes were on her on that special day.
4. Victoria Swarovski:$1 million
Victoria Swarovski, the Austrian singer and heir to the Swarovski crystal empire, made headlines when she walked down the aisle in a stunning wedding gown worth a staggering $1 million. Designed by Michael Cinco, this exquisite dress was adorned with 500,000 crystals from top to bottom, creating a mesmerizing sparkle that captivated everyone's attention.
The strapless ball gown featured a voluminous skirt with intricate embroidery and delicate lace details. The bodice was beautifully embellished with hand-sewn crystals that shimmered in the light. To complete her glamorous look, Victoria wore a cathedral-length veil encrusted with even more Swarovski crystals.
Not only did this one-of-a-kind dress showcase Victoria's impeccable taste and style but also reflected her family's legacy of luxury and opulence. It was truly a masterpiece that showcased the artistry of both designer Michael Cinco and the renowned Swarovski brand.
Victoria undoubtedly looked like a princess on her special day as she made her grand entrance in this breathtaking creation. Her million-dollar wedding gown will forever be etched in our memories as one of the most extravagant and unforgettable bridal ensembles ever created.
5. Angelababy:$1.5 million
Angelababy, the Chinese actress and model, certainly knows how to make a statement when it comes to her wedding dress. With a price tag of $1.5 million, her gown is truly a work of art. Designed by Dior's creative director, Maria Grazia Chiuri, this exquisite creation took five months and 115 feet of ivory satin organza to complete.
The dress features intricate hand-embroidered lace flowers that cascade down the bodice and onto the voluminous skirt. The sheer long sleeves add an elegant touch while the billowing train adds drama and grandeur.
But what really sets this dress apart is the stunning 100-carat diamond necklace that Angelababy wore with it. Valued at $1 million alone, this jaw-dropping piece perfectly complements the opulence of her gown.
Just imagine walking down the aisle in such extravagance! Angelababy's wedding dress is a true reflection of her style and status, making it one of the most unforgettable gowns in history.
It's no wonder that brides around the world look to Angelababy for inspiration when planning their own weddings. After all, who wouldn't want to feel like royalty on their special day?
Stay tuned as we continue our journey through some of the most expensive wedding dresses ever created!
6. Yumi Katsura White Gold Wedding Dress:$8.5 million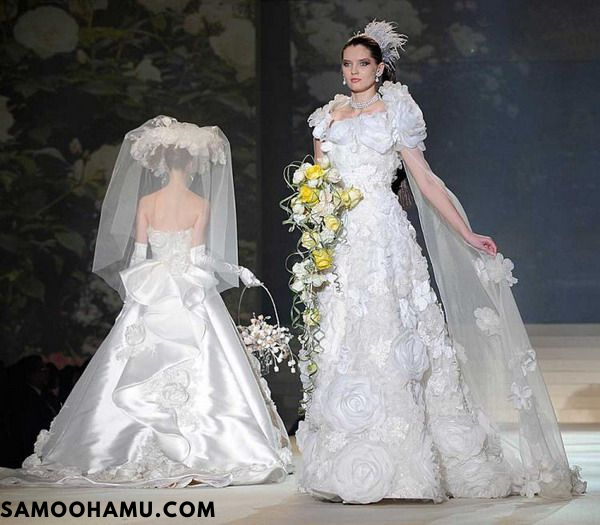 If you thought a million dollars for a wedding dress was extravagant, then hold on to your veil because we're about to dive into the world of Yumi Katsura's $8.5 million white gold creation. This stunning masterpiece is a true work of art that will leave jaws dropping and wallets crying.
Yumi Katsura, a renowned Japanese designer, spared no expense when creating this one-of-a-kind gown. The dress itself is made from luxurious silk satin and features intricate hand embroidery with delicate lace appliques. But what truly sets it apart is the 5-carat white gold diamond belt that adorns the waistline.
To make this dream dress even more opulent, Katsura added over 1,000 pearls and Swarovski crystals throughout the bodice and train. Every stitch was meticulously placed to ensure perfection from every angle.
Wearing this sparkling beauty down the aisle would be like stepping into a fairytale. It's a gown fit for royalty – or anyone with $8.5 million to spare!
But let's not forget that beyond its eye-watering price tag, this gown represents craftsmanship at its finest. It showcases the dedication and skill of Yumi Katsura as she pushes boundaries in wedding fashion.
So if you happen to have millions burning a hole in your pocket and desire an unforgettable entrance on your big day, look no further than Yumi Katsura's White Gold Wedding Dress! Just remember to practice walking in those heels so you can fully appreciate its splendor as you glide down the aisle towards forever blissful matrimony
7. The Diamond Wedding Gown:$12 million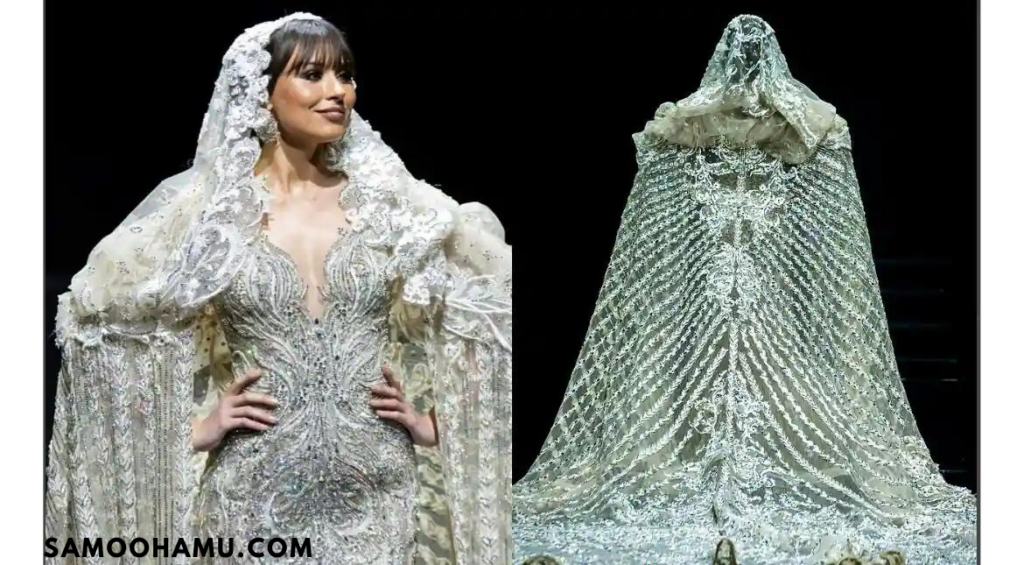 And now, we arrive at the grand finale of our journey down the aisle of extravagance. Prepare to be dazzled by the most jaw-dropping and awe-inspiring wedding dress of all time – The Diamond Wedding Gown.
With a price tag that could make even the wealthiest bride gasp for breath, this extraordinary creation is a true masterpiece. Designed by renowned designer Renee Strauss in collaboration with jeweler Martin Katz, this gown is adorned with an astonishing 150 carats worth of diamonds!
Every inch of this gown sparkles and shimmers as if it were dipped in liquid starlight. From its intricate lacework embellished with diamond accents to its voluminous skirt cascading in layers upon layers of tulle and silk organza, each detail speaks volumes about opulence and luxury.
But what truly sets this dress apart from all others is its show-stopping feature – a detachable diamond-encrusted train that drapes behind the bride like a celestial trail. It glitters and gleams with every step she takes, leaving onlookers mesmerized by its sheer brilliance.
The mere thought of wearing such an exquisitely extravagant gown can transport any bride-to-be into her own fairytale fantasy. But alas, for most mortals, acquiring such splendor may remain nothing more than a dream.
As we conclude our exploration through these nine remarkable weddings gowns that have captured both hearts and headlines alike, one thing becomes abundantly clear – when it comes to love's grandest celebration, some brides spare no expense to create their vision of perfection.
From Marie-Chantal Miller's regal elegance to Angelababy's whimsical fairy tale extravaganza; from Kate Middleton's timeless sophistication to Yumi Katsura's white gold wonder; each dress tells a unique story filled with love, dreams, and exceptional craftsmanship.
While these gowns may be beyond the reach of most brides, they serve as